Making cultural connections through art
Artitja Fine Art Gallery acknowledges the Traditional Custodians, the Whadjuk people of the Noongar nation on whose land we live and work and pay our respects to Elders, past and present
Australian Aboriginal Art
Making an appointment is simple – either call Anna on 0418 900 954 or email via the contact page  
Artitja Fine Art Gallery based in South Fremantle, Western Australia specialise in Australian Aboriginal Art.  In 2023 we turn nineteen! We are proud to have developed ongoing trusting relationships with over twenty Aboriginal owned art centres in remote communities and continue to bring you the most exciting Indigenous art direct from these communities.
Artitja Fine Art is a gallery with a difference. We invite you to view our extensive collection in person by appointment seven days a week, and provide individual advice to ensure that you select exactly the right artwork for your home or office.  Or you can view the collection on our website. We are constantly updating and loading new and awe inspiring art works for you to enjoy.
We also hold up to five specifically curated exhibitions a year in various gallery spaces, so keep checking for details or join our mailing list to ensure you don't miss out.
If you feel unsure about how to find that special piece of Aboriginal art to purchase, or how to select it, contact us. We are always happy to talk you through your enquiries using the knowledge and experience gained from our relationships with art centres and artists.
The art included on this site comes from remote Aboriginal communities, whose only source of income is their art. We partner closely with the artist run art centres and sales through our gallery means money gets sent to the artists, and contribute to their ongoing art practice and wellbeing. Be assured that if you do purchase art from our gallery we will ensure the artist will get paid for the sale immediately.
Since 2004 we have exhibited hundred of First Nations artists from remote Aboriginal communities and regions as far as Arnhem land, APY Lands, western and central deserts; the Kimberley and Tiwi Islands. Many of these artists have works in major collections and in private collections worldwide.
Our aim is connecting cultures through art. Aboriginal art provides insights into Indigenous stories and Tjurrkupa (dreamings) and plays an important role as a medium for connection between different cultures. Building awareness of these connections to a worldwide audience has been the gallery's driving force.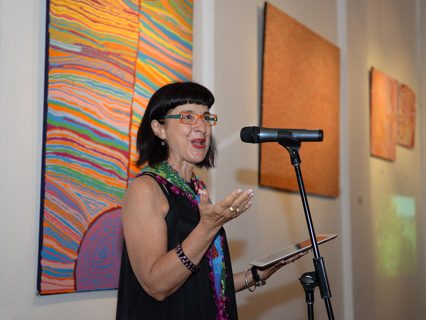 Australian Aboriginal Art
Australian Aboriginal art is now an established Australian  contemporary art movement, which began in the 1970's and has gained an international reputation. Artitja Fine Art is an approved gallery for
ART MONEY
interest free loans to buy art.  We have many happy clients who have used this service. Enquire now.
THE GIFT COLLECTION | Art + Objects
9 - 31 December 2023 Terrace Greenhouse Gallery 223 South Tce, South Fremantle
CROSSING COUNTRY opening night 9 Jun 2023
We sell Desert Dogs! $50 each plus postage
The Old George Gallery - Artitja Fine Art Launch - 2004